... The PAINT zone, that is!!! :0)
Let me just say, I LOVE FREECYCLE!!! What's Freecycle?? Its a Yahoo Group, where you join like any other Yahoo Group, but this involves giving away stuff you don't need, and taking what you do need. Don't throw things away and fill up all the dumps... GIVE your uneeded things to someone who can USE them. It's so cool!!
You can learn more about it
here
. You can join one close to where you live!!
Anyhow, I get my Freecycle emails every day and I look through them for various things. I ALWAYS have a mental list of things I want, but won't go buy. LOL Today a wooden High Chair came up and I was lucky enough to grab it. I want to paint it for inside the shop. Its a kid shop with barely any kid furniture (I really need a wooden kid table with chairs, hint-hint).
Here it is after I attacked it with some primer. (I forgot to snap the pics before the primer...)
And here it is after I got a bit of paint on it!!! It is not done.... I have some fine tuning to do and some other zebras I want to hide!!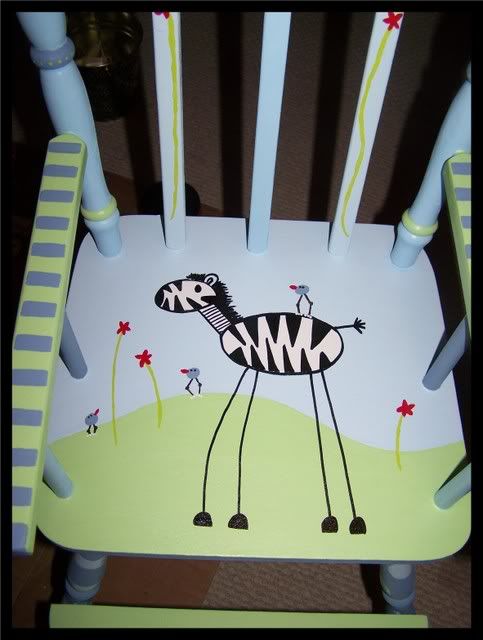 Anyhow, I got nothing else done... No laundry, no cooking, no sewing... Ahhh The world of procrastination.
There is nothing like a painting project to relax the body and mind.
I hope you all had a wonderful day today. I did.
I need to rummage through the garage so I can find a few cool things to offer.
One person's trash, is someone elses treasure!!!