Tompkins Falcons, Your Homecoming is sneaking up on us... October 24th!!! Need to get your order in quick!! Spaces are filling up... I am ready to come to your house with fabric samples and pictures of goodies to adorn your overalls with...
Contact me
HERE
to set up your home consult.
Just so you can see what else is on the market, I have made a couple of comparison pictures for you....
On left is an iron-on & painted pair, on the right is my sewn appliqued pair. AND, moms, from what I have read, the price for the iron-ons &paint is $120-150... so for a few $$ more, you can have heirloom quality, applique wearable art!! My overalls will last for years... Even for Homecoming in say, 20 years??
(...my falcon covers the whole bib, not just that little spot on the back, where your hair covers it. LOUD & PROUD FALCONS!!!)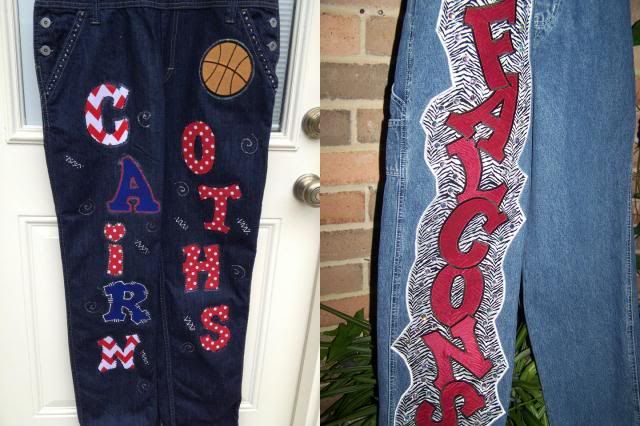 The choice is yours.
In fact, I have THIS pair of overalls complete!! (Except for your name, which I will add when I get payment)
$200 all inclusive.Includes overalls, artwork and BLING. If you were to order them custom, the cost would be $195 WITHOUT the overalls. I'm only charging 5 bucks for those!! C:
I will gladly deliver them to your home!!
Feel fre to contact me with ANY questions you might have!!
=:0)