I may never finish this project, LOL But I figured I could share where it is now.
The kids room.
Not a huge room, so organization and *housekeeping* is a must.
First the theme. Surfing. The beach. California. All things warm and sandy. The kids and I all share the same kinship with salt water and sunburns, so the choice of theme was unanimous.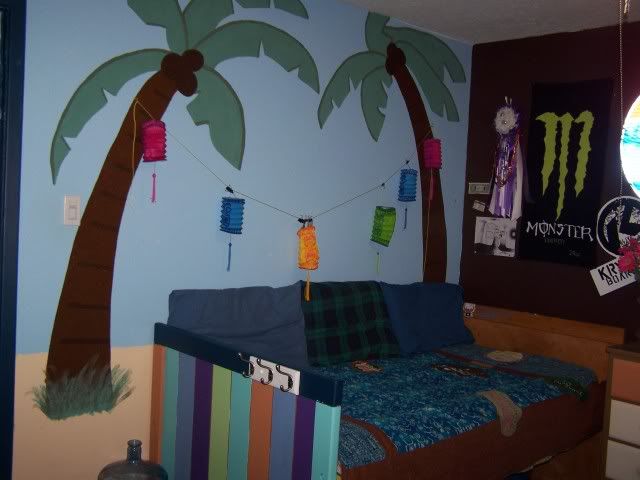 I started with the walls. Palm trees, shades of blue... I had one obstacle.. a wall with tons of "graffiti" type paint done with enamel paint pens. I had to cover with a dark gloss (kids wanted black, I chose a nice dark chocolate). This wall is free to them to decorate with posters, signs, junk, art. The TV is on this wall too, on a dresser I just recently moved in. It still needs a paint job, along with the other dresser.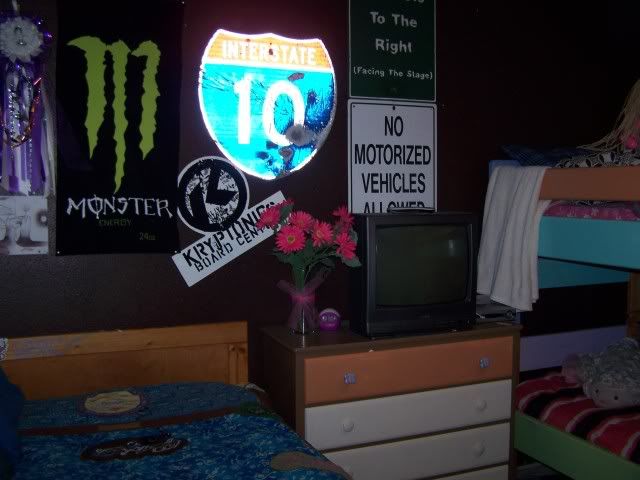 My next venture was the closet. I gutted it and painted it a light lime green. Added white wire shelving and some bins on rollers. Everyone has their own space and places to keep their favorite things. The curtains to cover the closet are from a flat sheet I got at Ross. I like that they are white so they add a lightness to the room. And the surfboards, of course, compliment the decor.


I used another for the 2/3 curtain on the window and topped that off with a grass hula skirt. (Garden Ridge Pottery was having a 50% off sale on all party stuff!! So I got a bunch of cool little things like the skirt for pennies!!)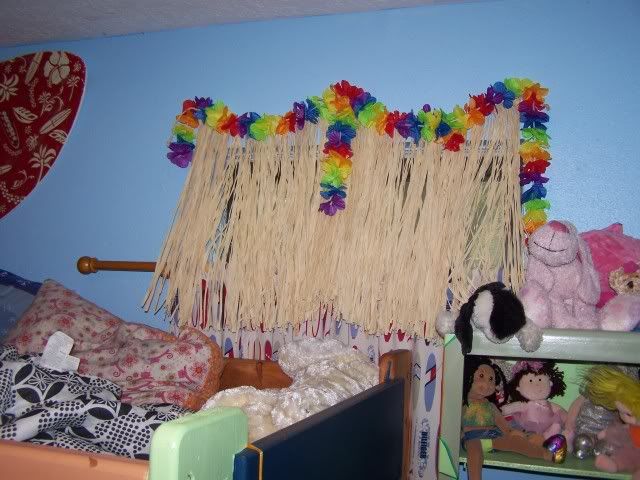 The rest of the surfboard sheet was cut up and I used it in the two queen sized quilts I made the girls and the matching pillow shams. I am happy that the sheets I paid like $25 for, have gone so far in this decor. If I had actually fond a fabric I liked, I wold probably spent $200-300 on it to get enough, and there wold have been lots of seams.



So, anyhow, the paint on the furniture is fun and colorful. Each part is painted a different color, kind of like inside Babin's. (Babin's has a bunch of wood inside that was salvaged from New Orleans, and it is painted fun bright colors and adds personality.) I still have to finish the two dressers, like I said before, and I still have parts of the kids beds to touch up.
I forgot to mention, I ripped up the carpet and painted the concrete a fabulous cerelian blue to mimic water from the prettiest beaches.



Hows THAT for Krafty? :0)